Delivering Radical Agility to Dublin
A Zalando Delivery Lead and his team make Radical Agility happen in Dublin.
Last month I travelled from Dublin, Ireland to Berlin for my Zalando onboarding. As a new Delivery Lead at our growing Fashion Insights Centre, I'm primarily responsible for overseeing the technical/engineering aspects of my team's work. Like all newbies, I was invited to spend some time at HQ learning about the fashion industry, Zalando culture, and platform strategy. I spent two weeks in balmy Germany, luxuriating in temperatures I had only ever seen on my fan oven (have you heard about Irish summers?), and quaffing deeply from Zalando's heady (multi)cultural brew. I returned from Berlin bronzed (well, ridiculously freckled) and full of a nascent optimism which no Dublin summer squall could dampen.
Zalando's vibrant tech culture—especially the Radical Agility platform of Autonomy, Mastery, and Purpose—was what inspired me to join the team. So many companies discuss, dissect, prod, experiment with—and ultimately ignore—these ideals. For Zalando Tech, they are the foundational pillars of our culture, and they permeate the fabric of our +800-member organization.
The Radical Agility framework is supported by Zalando's Tech Constitution: a set of rights and responsibilities informed by the motivational trifecta of Autonomy, Mastery and Purpose. By promoting Trust as the glue holding individual technologists, their teams and the company accountable to each other, the Constitution grants us the freedom to choose our own technologies, invest in mastering broad skills, challenge each other, and defend all of these freedoms. It's an incredibly enlightened approach, and one for which there exists no blueprint, no handy "Dummy's Guide," no convenient gist.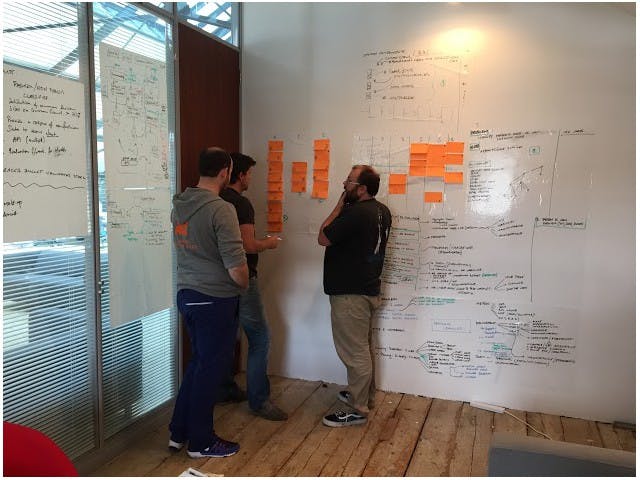 Bringing Some Radical Agility to Dublin
Upon returning to Dublin, I sat with the members of my team—all of whom are as newbie as I am—and attempted to put Radical Agility into practice. We did this by establishing a technical stack and methodology that would allow us to fulfill our initial delivery goals and also remain true to Radical Agility's three main principles. Our first step was to establish our Purpose: What are we trying to do? Do we believe in it? How do we get there?
Over three days, the three of us—a data engineer, a software engineer and I —sequestered ourselves in a small room and covered the walls with statically charged white sheets. Onto these sheets—guided and prodded in equal measure by our Product Specialist (a combination data scientist and Agile-influenced product manager)—we projected our collective thoughts, ideas and concepts about our stack, delivery methodology, tactical deliverables, and other key aspects of our work. The overall experience was one of liberation and some confusion, yet we drew many helpful observations as a team:
Product and technical roadmaps are extremely useful for framing, prioritizing and conceptualising
Some form of roadmapping or high-level planning is useful at recurring intervals
Hands-on, tactile, interactive collaboration between product and tech is invaluable
It took us two days to funnel multiple high-level, nebulous product concepts into more concrete, interrelated artefacts, but in this case the journey was much more important than the destination. We succeeded in establishing a shared context and understanding, and in creating strong bonds of trust in each other's abilities and insights. None of our activities were prescribed, nor were the sessions actively preplanned. Rather, we created a discrete working space, replete with low-tech tools (whiteboards, stickies, markers, coloured stickers, magnets etc.), which we used (along with innovation games, quadrant analysis, Design Thinking, and other techniques) to establish our purpose (why), our methodology and stack (how), and our high-level plans and goals (when).
All of our decisions were collective and based on shared knowledge. For example, we decided to run ScrumBan based on our prior (and mixed) experiences with Agile. We also decided to eschew tooling for the moment in favour of highly visible Kanban Boards onsite. Most importantly, we decided to be open to change, to experiment with our process (which we all agreed to keep lightweight and fit-for-purpose), and to communicate frequently and effectively. We agreed to use timeboxed Spikes to bookend experimentation, and to size stories/tasks relatively in order to decompose them effectively.
By the end of the week we had established:
A methodology
A high-level roadmap
Our technical stack
The scope for the quarter
Potential deliverables (aligned with OKRs)
Stories to realise deliverables
This may all look familiar, and far from "radical." However, there are significant and profound differences from industry standards here:
As a team, we collectively self-organized and articulated a working methodology based on the sum of our prior experiences. We also explicitly agreed to review, tweak, and refine our methodologies / technologies as we progress. This is fundamental to Radical Agility.
We autonomously decide what is best for us as individuals, but more importantly as a cohesive team and delivery unit. We also decide what is best for Zalando as an enterprise.
We can unilaterally improve this as we see fit or as our mastery—our skills and expertise—improves and matures. We must make these improvements responsibly, particularly where other teams, stakeholders and—most importantly—our customers are concerned.
It is incredibly empowering to operate in an environment like this, but also somewhat intimidating to be suddenly confronted with such freedom. We are taking our first tentative steps into a Radically Agile world and it feels a little bit like the sun peeking out of the clouds in an Irish summer.