Meet Zalando Tech at Career Zoo
Zalando is a main sponsor of this career and networking event for Dublin technologists.
Since the April 2015 opening of Zalando's Fashion Insights Centre at the Silicon Docks, Zalando's tech team in Dublin has grown faster than we had anticipated. But our search for the best data science and software engineering talent remains in full-speed-ahead mode, which is why we're proudly sponsoring this year's Career Zoo: Ireland's leading event for tech networking and hiring.
In addition to a panel discussion featuring Zalando VP of Data Andreas Antrup, Zalando's Career Zoo activities include hosting a mega-booth equipped with Nerf Gun shooting range and a bit of "Z-Kino"—focusing on footage from our yearly Hack Week projects. Zalando technologists from our Dublin and Berlin offices will be on hand at the booth to answer any questions you have about our tech stack, operations and exciting opportunities in Dublin, Germany (Berlin, Dortmund, Monchengladbach, and Erfurt), and Helsinki. Talk to the men and women who have helped Zalando evolve from a two-person, online retail shop into a +9,000-employee, publicly traded fashion platform doing business in 15 European countries!
We'll also give a Tech Box talk on our culture of " Radical Agility," which emphasizes Autonomy, Mastery, Purpose and Trust. This presentation will give you a great sense of what it's like to work at Zalando and how we've adapted our culture to transform from an online shop into a fashion platform. Our Dublin hub will play a key role in this transition by focusing on research and development around recommendations, personalization, and real-time insights.
Check out our Dublin team at last week's Career Zoo launch: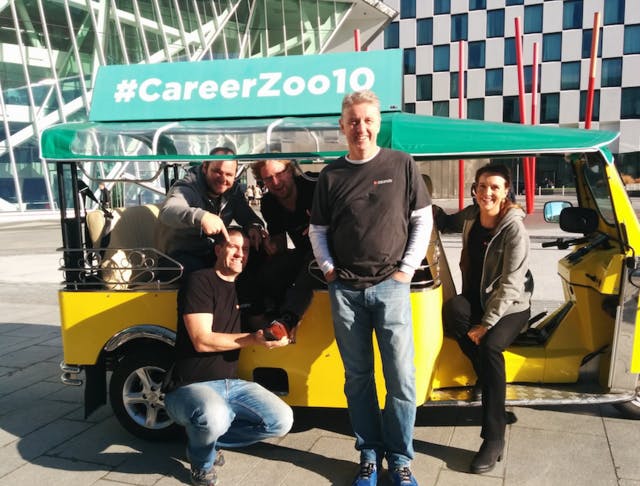 Hope to see you there!