Why Zalando Is Celebrating "Mobile First Day"
The many steps we're taking to become a #MobileFirst company.
Pretend for a moment that you work in a dynamic, multinational ecommerce company, and that you are tasked with getting your +9,000 coworkers to think, support and believe in "Mobile First." How, and where, do you begin? Zalando's Mobile First team has been wrestling with this idea all year, and has come up with three key ingredients:
A solid, easy-to-understand definition of what it means to be "Mobile First." The majority of our customers now visit Zalando via smartphones and tablets. In the future, mobile will be the primary touchpoint. To remain customer-centric, we need to innovate across devices.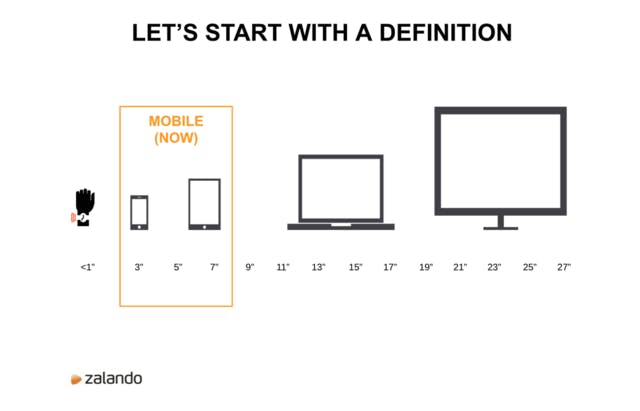 Compelling statistics. More than half of Zalando's +16 million active customers shop via their mobile devices, and soon mobile purchases will surpass desktop. The Zalando app has now been downloaded more than 11 million times and Mobile now makes up 57% of Zalando's overall traffic. These stats make it clear that we can't grow our business by simply relying on the success of our desktop website. We need to listen to our users, and adapt our overall business strategy by shifting our focus to the latest devices and channels. accordingly.
Fun. This brings us to #MobileFirst Day, Zalando's latest celebration of our Mobile First initiative. On September 24, we'll host a full day of presentations featuring internal and external (Facebook, Instagram, Uber) mobile experts. Each Zalando location in Berlin will hold its own Mobile Fair featuring booths from all our departments—from fashion search to finance—that showcase their mobile activities; our Zalando teams in Dortmund, Dublin and Helsinki will tune in via livecast. We're also asking our employees to test our current apps and beta versions of new app projects, and to share their feedback with our mobile teams.
Behind our Mobile First Movement. In crafting our internal Mobile First campaign, we've followed a few key mantras:
Take a bottom-up approach. In March 2015 we launched our M-Bassador program, in which every Zalando department holds workshops to define their own Mobile First-specific activities and appoints a Mobile First ambassador to liaise with Zalando Mobile.
Assume nothing. Because it's so new, Mobile First development offers no guarantees. To help our M-Bassadors become more comfortable with so much uncertainty, our team hosted an intro workshop to identify high-level roadblocks to going Mobile First and taught them how to run workshops themselves.
Go multi-pronged. Other Mobile First initiatives we've implemented in recent months:
Letting employees choose their mobile. Zalandos can upgrade to their preferred operating system: iPhone 6, Android, HTC ONE, or Sony Xperia.
Fun, easy and mobile focused internal contests and campaigns. One example is our mobile video selfie contest. We asked Zalandos to send us a selfie-video in which they told us how mobile has changed their lives. Everyone who participated had the chance to win an iPad.
Getting support from leadership. The members of our management board have been strong allies—using their regular internal talks to update all of Zalando on our Mobile First progress. They're great at asking us provocative questions that encourage us to think critically about our work.
A curated newsletter with news of our ongoing apps development and different teams' Mobile First activities. Rental services for employees who want to try out different mobile devices during off-hours, or even while they're on vacation.
Multi-device mobile playgrounds at each Zalando location. These resemble the display area at your local Apple store—except that they include Android and Windows in addition to iOS—but similarly offer a great user experience: No passwords or extra steps are required to try out new devices, download apps or browse the web.
Mobile Workshop kits that include 30 ready-to-use iOS and Android tablets and WiFi boxes for meetings or workshops.
Wireless meeting rooms that include Apple TVs and presentation devices compatible with mobile devices.
Mobile Responsive Design workshops for all Zalando designers.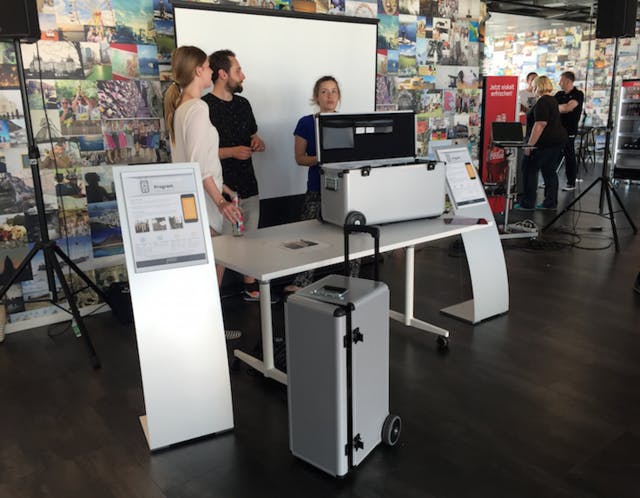 Mobile Workshop kit rollout.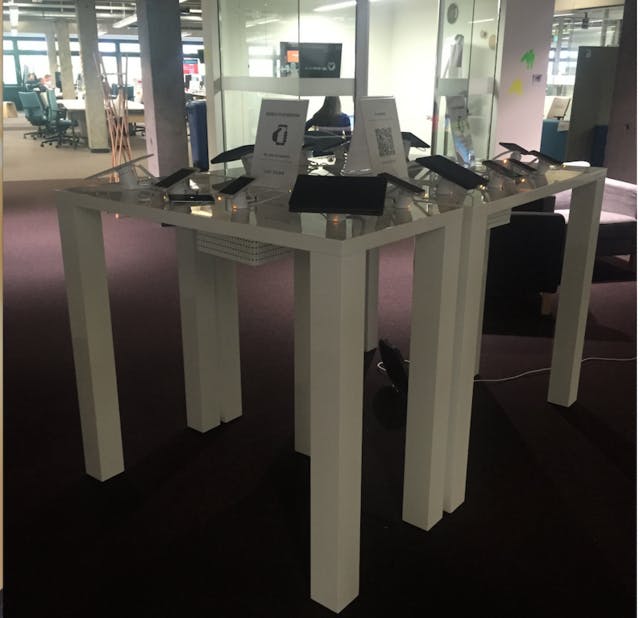 A Mobile Playground in our Berlin Tech HQ.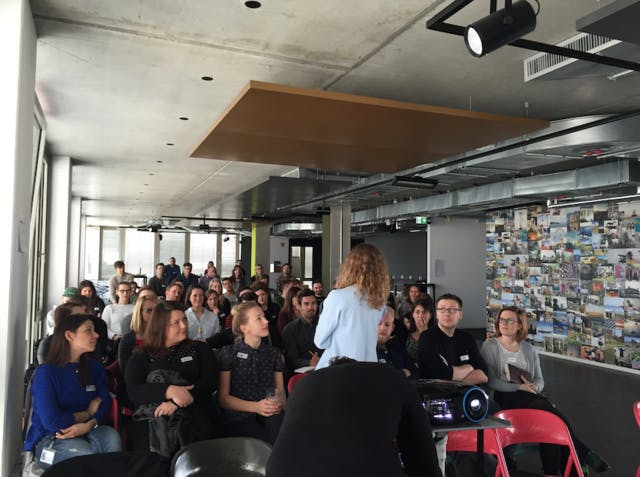 M-Bassador Workshop in action!
In the words of Eric Schmidt, "The trend has been mobile was winning; it's now won." Mobile is here to stay, and we're excited about where our Mobile First movement will take us.
---
Kristina Walcker-Mayer is a Mobile Apps Product Specialist and Mobile First Evangelist at Zalando. She'll speak more on this topic at the upcoming MobileApp Europe Conference in Potsdam, Germany.
Richard Neb is a Business Development Manager Customer Experience and part of Zalando's Mobile First team.