One Last Thing Before We Call It a Year: Hack Week #4
Zalando Tech's annual innovation week takes place this December. Bigger and more relevant than ever!
It's Hack Week time! Our annual week of open innovation and experimentation takes place December 14-18 in our Berlin and Dortmund tech offices and features more participants (+900) from more locations (seven) than ever before. To celebrate our team's growth and accomplishments over the past year — and to look forward to an even more electrifying, headbanging-worthy 2016 — the theme of Hack Week #4 is "rock stars"!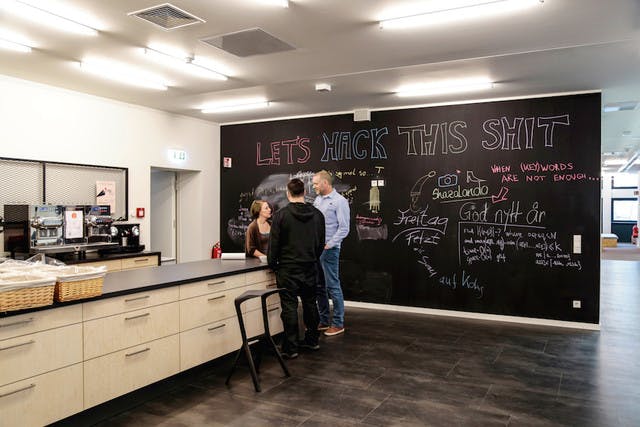 Hack Week launched in 2013 with a very simple premise: For one full week, every Zalando technologist pauses their daily business to pursue an idea or project that somehow contributes to our business or work culture. This year's HW will include a flashy project fair where each team will demo and describe their creations. We'll wrap up with a ceremony where we'll honor the best projects with awesome awards.
Hack Week is the perfect time of the year for Zalandos to play, prototype, and experiment with new technologies. It allows everyone in tech to stretch our brains, have fun and collaborate with colleagues from across the tech organization. At Hack Week #3, two project teams built a virtual dressing room and an automated shoe recognition solution powered by a Microsoft Kinect motion sensor. Two other teams built autonomous robots and smart wearables out of electrical components. Others successfully launched a women's shoe into space (outfitted with a GoPro to record the shoe's journey). Some HW projects have had a substantial and direct impact on our business: for example, a smart warehouse trolley equipped with LEDs to quickly load items where they belong that's now used at our logistics centers, and a photo-search feature on Zalando's mobile app. Quite a few of the software tools developed during past Hack Weeks are open-source and available on our GitHub page.
More Important Than Ever in Our Platform World
In early 2015 we announced an ambitious new business strategy that will transform Zalando from an online shop into a comprehensive "fashion platform" featuring many new products and services. The change will require a massive expansion of our business functions. We'll serve a wider range of customers in different ways, build new technologies to support our platform architecture and continue to innovate as we expand.
Becoming a platform company also required a radical change in the way we work and build products. Our trust in self-directed, highly autonomous and agile teams- Zalando's engineers enjoy the maximum freedom to take full ownership of the software they build.
Hack Week contributes greatly to all of this. It also unlocks a lot of creativity, as everyone gets to experiment with latest technologies in a playful way. It's a source of game-changing ideas that will help to reinforce our platform strategy and shape the future of Zalando.
Innovating Like a Star: What's New in 2015
Hack Week #4 will put hardware projects in a brighter spotlight than in years past. Our newly opened Innovation Lab (a.k.a. The Shuttle) will provide a dedicated 450sqm digital fabrication "makerspace" with Arduino, 3D printers, sewing and soldering equipment, latest-model mobile devices, and virtual and augmented reality gear. Z-technologists will be able to make almost anything here.
It's international! In 2015, Zalando's Technology department has grown to over 900 people. We have opened two international Tech hubs in Dublin and Helsinki. We also expanded to Hamburg and relocated to a bigger building with our Dortmund team. We're flying in the teams from all of our Tech Hubs for the week.
On the awards front, we've added some brand-new categories that reward projects' relevance to improving our business and work culture: inclusion/diversity, social good, and customer empowerment.
Another first for this year: Zalando will provide support and resources for innovative ideas to develop and evolve beyond Hack Week. Highly promising projects that complement our platform strategy will become eligible for Slingshot: our intrapreneurship and acceleration program in which Zalando teams can spend three months of paid working time in our Innovation Lab, fine-tuning and testing their radical concepts.
Members of our Hack Week newsroom will report live from the field all next week. Subscribe to our RSS feed and follow us @ZalandoTech to receive updates and learn more about Hack Week at Zalando!