Spaghetti and Marshmallows at Zalando: An Exercise to Inspire Deep Learning
Encourage teams to experience simple yet profound lessons in collaboration, innovation, and creativity.
Some months ago I had the opportunity, with two fellow Zalandos, to organize the "Dortmund 5PM"; a gathering across all Dortmund teams, scheduled once a month on Fridays in our local event space. We want to foster further cross-team collaboration between individuals, making these meetings a memorable experience for all.
We opted for running The Marshmallow Challenge; a funny design exercise that encourages teams to experience simple yet profound lessons in collaboration, innovation, and creativity.
The challenge is really simple: Teams of four to five people have to build the tallest free-standing structure out of 20 sticks of spaghetti, 1 yard of tape, 1 yard of string, and 1 marshmallow (which must stand on the top) in 20 minutes. Easy, right?!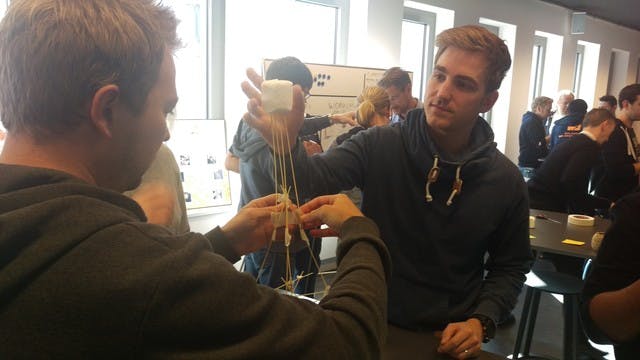 Around 50 team members joined the challenge and the results were quite varied. According to Tom Wujec, creator of the exercise, there are some patterns behind how teams perform, which he explained further during his TED Talk. See below for the takeaways we noted based on running the challenge in Dortmund.
Education doesn't matter. Engineering is a mindset, a mental attitude or inclination to solve problems with what is provided to us.
Prototyping matters. Successful teams are the ones that naturally start with the marshmallow and add the sticks to it, rather than executing the plan with almost no time to fix the design once they place the marshmallow on top.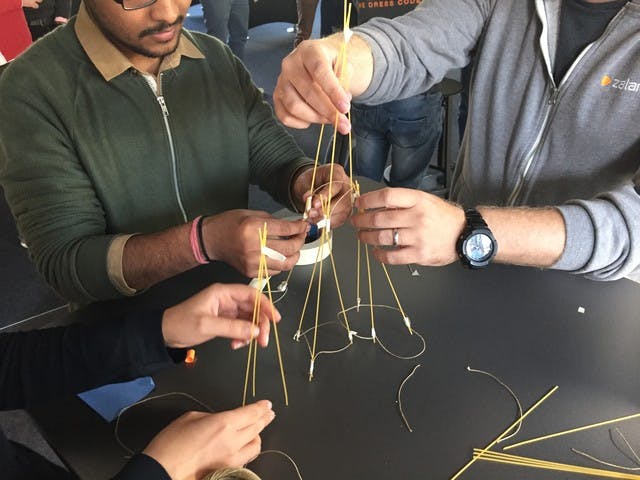 Hidden assumptions are everywhere. The marshmallow is nothing more than a metaphor for hidden assumptions. Each project or product has its own marshmallow: real customer needs, the cost of the product, service performance, or dependencies across teams. Prove them early and often – that's the mechanism that leads to effective innovation.
Visual metaphors are a powerful instrument. Months after running this experiment, it's quite impressive how some colleagues are still pointing out a "marshmallow" when they refer to hidden assumptions.
For all Producers and Project Managers out there, I recommend you try out such a design exercise with your team or your company –  you can have a lot of fun while engaging in deep learning activities and improving perspectives to your workflow.