Discovering a Future in Tech
How former Zalando trainee, Anriika Kauppi, found her calling
How former Zalando trainee, Anriika Kauppi, found her calling
Fresh out of high school, Anriika Kauppi, 19, was interested in becoming a teacher, but instead of taking the scholastic route, she did a summer traineeship at Zalando's Helsinki Tech Hub. With a family background in tech, Anriika wanted to see what the field had to offer as a career. A year and a half later, she has lived abroad for three months, completed another internship in the tech field, and applied to study engineering. Now Anriika is in her first year of studying engineering at the Tampere University of Technology in Finland, and she is passionate about inspiring her peers and young girls to study technology too.
Do you remember your first encounter with "tech"? What was it? It depends on what you define as "tech," but when I was little, one of my first impressions was when my father showed me a computer that had a dummy program that taught the basics of how computers work. I printed my name a hundred times. At that time, however, it didn't sound very fascinating, probably because it didn't even occur to me that what it was doing was so special. In retrospect, after working at Zalando and starting to study, I became fascinated and realized the possibilities of coding.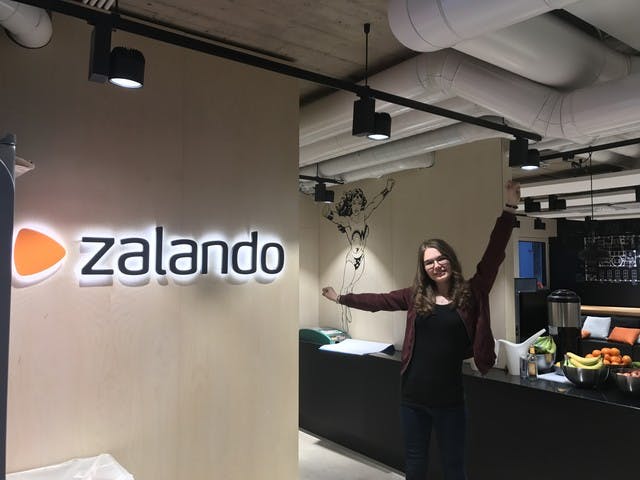 Anriika stretched herself as a trainee at Zalando.
What was your role at Zalando? Why was it interesting for you? I was a trainee at Zalando in the summer of 2016 for three months, right after graduating from high school. I did subjective testing for one of the projects in the Helsinki tech hub. Together with this, I did application testing on a newly soft-launched application. I also planned how to automate my work for when my traineeship was up, so that the team could work independently without me. My idea was around testing one search engine's accuracy against another one's automatically, which in the end, the team implemented and used after my traineeship was over.
I loved finding the shortcomings of the search engines. However weird they were, there was always still some logic behind them, and figuring this out was fascinating to me. So much so, I wondered about the fun I could have working in the tech industry. If I could solve problems such as these in my career, I definitely wanted to go study IT at university, even though my previous goal was to become a school teacher.
One year after my traineeship at Zalando, I was accepted to study Information Technology at the Tampere University of Technology in Finland. I am currently in my first year, studying Python and C++.
What are some of your favourite tech products? I can't name one, but the ideal kind of tech product for me is one that's simple-to-use and aesthetically pleasing, while combining multiple touchpoints in one device. For example, some mobile banking applications in Finland do this very well.
Who is a hero of yours? Why? My grandma. She studied programming already before it was taught in universities. Basically, she learned programming with punched tape before the '70s, and she worked with microprocessors. She often wondered whether she was one of the first female microprocessor programmers in Finland, as at the time there were hardly any.
Nowadays, it's also great that I can connect with my father on a similar level. He is also a software developer, and it's cool to be able to have deep tech-focused conversations around topics we're both passionate about, and to learn from his experience.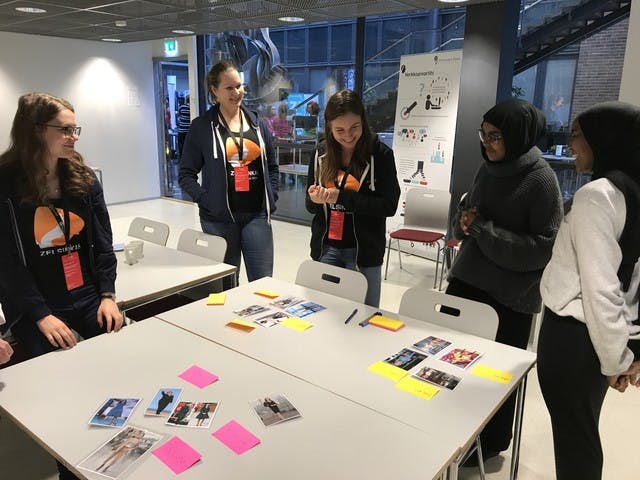 Anriika is part of "Zelsinkas": Zalando Helsinki's Women in Tech
Where do you see yourself in ten years? I see myself working abroad in an international tech company specializing in perhaps cyber security, testing, or UX design with a programming aspect. Although, I don't yet know 100% which direction I'll go in because the tech world is so vast, and it changes constantly. I have only started to discover a small part of it so far, but I'm excited by the opportunities to continue solving the problems that intrigue me. I could also combine teaching and IT. In Finland, they started to teach coding in all elementary and middle schools as of September 2016.
Now, I want to encourage others, especially girls, to understand the opportunities and possibilities of tech, and show that it is a creative and fun field with a highly logical mindset.
Looking back at that moment when I saw the dummy program as a child, I realize now that the program was probably only a for-loop and print function. It's s pretty awesome that I finally get it!
In February 2018, Anriika represented herself and Zalando as part of "Zelsinkas": Zalando Helsinki's Women in Tech, at the Super-Ada event for 16 to 22-year-old women. The event encourages women to study and start a career in technology. Our Helsinki tech hub, as well as our other locations around Europe: Berlin, Dublin & Lisbon, are looking for inspirational female tech talent to join us in creating amazing experiences for our customers. Happy Women's History Month!