Zalando Tech: Lisbon
Engineering Lead, Michael Duergner on the company's newest tech hub
Engineering Lead, Michael Duergner on the company's newest tech hub
Now in its 10th year of operation, Zalando continues to focus on a smooth and inspiring digital experience for its customers with the opening of its latest tech hub in Lisbon, among other initiatives. We talk to engineering lead, Michael Duergner, who tells us more about the newest Zalando location and the company's personalization plans.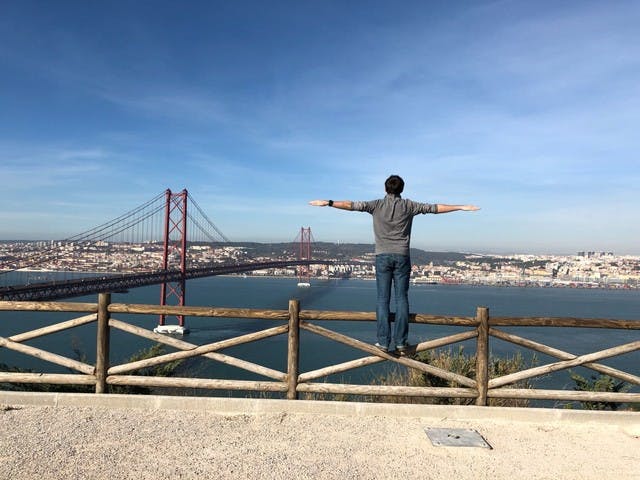 Michael leads the engineering team in Lisbon, Zalando's third international tech hub.
** Do you remember your first encounter with "tech"? What was it? **Oh, that's a very long time ago. My dad took care of organizing the annual running event for the local sports club and just got his first "laptop." Back then, it was more like a huge battery attached to a tiny screen which had orange text on a black background. It had an enormous 40MB hard disk. I did my first "programming" on it with some "scripting" for the "database" solution to improve the process for printing the participation certificates for all the runners.
Tell us about your time at Zalando so far. I joined the company as part of the acquisition of my startup, AMAZE, so my onboarding was a little different compared to the normal Zalando onboarding. The first real accomplishment for us as a team back then was navigating the Zalando tech stack, and getting our services migrated over and deployed. Afterwards, I had the possibility to move to our Helsinki office and lead a team there focusing on building prototypes to integrate external partners into Zalando. I also got involved with a couple of the guilds early on; mainly technologists, API and Open Source groups, and I enjoyed having an impact on shaping our future with the technologies we use, and encouraging teams to write better APIs.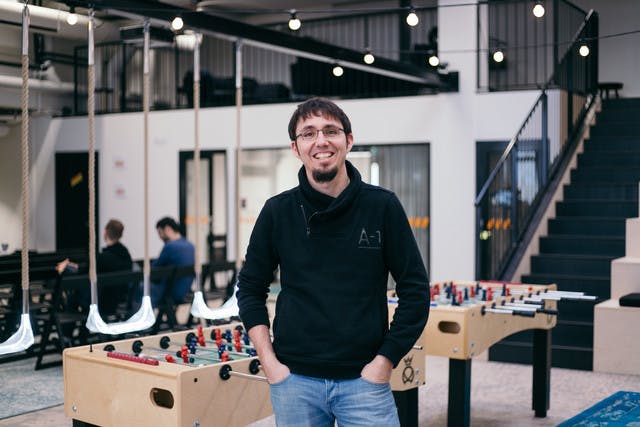 Michael in our Helsinki tech hub.
Can you talk about the new Zalando tech hub in Lisbon? It will focus on the Digital Experience, right? Yes, we will be working on Digital Experience related topics only in Lisbon. More specifically we will work on how we can get external partners integrated into the next generation of the Fashion Store. For example, we're working on integrating outfits from external publishers and bloggers in a really scalable way.
What are your first impressions of Lisbon both as a city to live in and as a place to work? What about the Lisbon tech scene? My first impressions of Lisbon are really positive. You can feel the lively startup scene and a strong "getting things done" vibe around here. People are really motivated to build something new. Besides that, being close to the beach is a huge plus. The tech scene as a whole is developing quite quickly with new meetups happening regularly. We have already spoken at a few meetups. Last night, Portuguese native, Luis Mineiro from our Berlin headquarters gave a talk at the DevOps Lisbon meetup group on reliability patterns. We look forward to hosting our own meetups soon too!
What are some of your favourite tech products and startups? I'm a fan of Kickstarter, and have a few of these "this is the next big thing" tech products at home; most of them related to photography. When it comes to startups, I really like Buffer for the product they are building, and Basecamp for the type of company they managed to create; focusing on creating a long-lasting business rather than some super-hyped startup. I'm looking forward to discovering my favorite startups in Lisbon or Portugal in general. I've met some inspiring entrepreneurs at different meetups already.
Check out our open positions in Lisbon to join Michael's engineering team.