Investing in the Future of Engineering and Design
Our cooperation with CODE University
Our cooperation with CODE University
At Zalando, we strive to create an environment in which all our engineers, product, and design specialists feel they can inspire each other, make their ideas a reality, and contribute to providing the best possible platform for Zalando's customers to have the ultimate customer experience.
Part of this is making sure we understand what the future generation of product managers, interaction designers, and software engineers are thinking and what ideas and innovations they can bring to the table.
Since fall 2017, Zalando has been an official partner of CODE University, a private, state-recognized university of applied sciences based in Berlin, which offers courses in various software fields in a hands-on environment, which is embedded in Berlin's network of digital and tech enterprises. Zalando decided to get on board with this exciting project in order to offer students insights into real-world applications of the techniques and principles they learn about in their studies.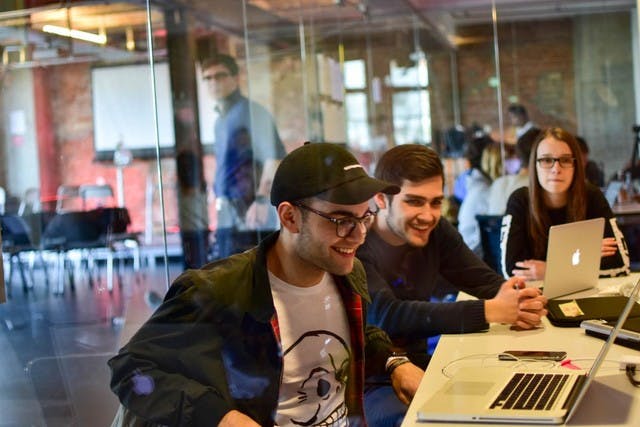 Credit: Manuel Dolderer (CODE)
Bringing Zalando challenges into the classroom
The major part of Zalando's cooperation with CODE is covered by the semester projects. Each semester, Zalando outlines projects for which it seeks input from software engineers, product managers, and interaction designers. These projects challenge the students to find successful solutions to realistic problems, and to facilitate their learning in a dynamic, realistic working environment.
For the winter semester of 2017/2018, Zalando's two projects included one which sought to make same-day delivery by bike courier more efficient by integrating a chatbot to enable real-time delivery updates, while the other looked into the potential that an autonomous, indoor drone could have on warehouse processes. Students who select the projects offered by Zalando work together in groups to address issues with the most efficient solutions, while receiving information and guidance from the Zalando employees who mentor these projects. At the end of the semester, the students' projects are presented to an audience which includes university faculty, other students, and business partners such as Zalando, and forms part of their final assessment. Two groups which worked on Zalando projects were awarded Best Pitch and Best Design for the winter semester 2017/2018.
According to the students, working on projects with real applications teaches them what it means to be innovative. Student, Dominic von Zielinski says, "I don't want people to have to think about my innovations while using them. Because that's what innovative means to me."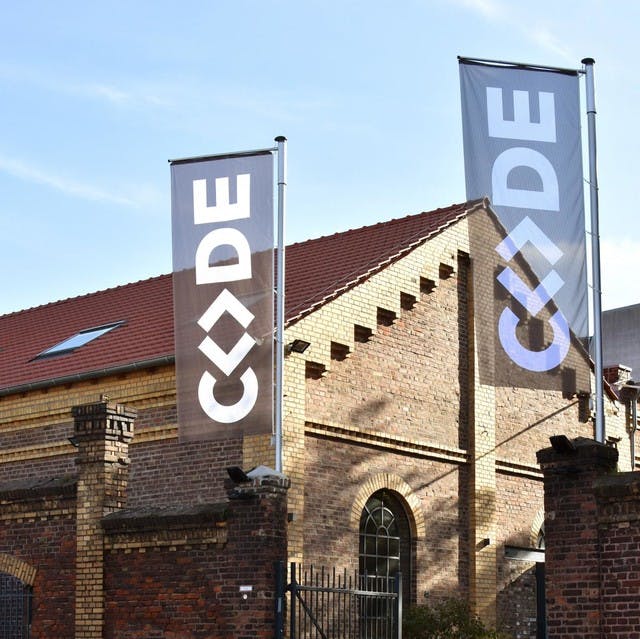 Getting involved in Zalando's Hack Week
Along with the longer-term projects which are an essential part of their studies at CODE University, Zalando also invited CODE University students along to its new-format Hack Week in March of this year. The new format involves cross-collaboration between company departments, such as Digital Foundation and People & Organization, to bring engineers and product managers together with Zalando employees from different disciplines and to see how they can find digital solutions to challenges within the company.
"What got me on board was the desire to get a better understanding of what's possible in one week, and how things can come together so quickly," says Dominic von Zielinski. "In the end, what kept me on board was seeing diverse people get together and do crazy and innovative stuff, all while being a part of the team."
The awards ceremony awarded five different teams in different categories, acknowledging their hard work and providing them with valuable feedback from Zalando's senior management. Additionally, two teams (including one with CODE University students) were given the opportunity to take part in the Zalando Innovation Lab's Slingshot Program, in which winning team members are given the resources they need to dedicate two sprints towards bringing their project to the next level.
"During Zalando's Hack Week, the main challenge I experienced was to transform complexity into simplicity," says Edmund Maruhn, another CODE student who took part in Zalando's Hack Week. "Once the week was up, I started to challenge myself and went the extra mile to improve what we had done, for two reasons: I fell in love with the problem we worked on from the first day, and I was motivated by the fact that we won an award!"
Investing in the future
By partnering with CODE university, Zalando wants to not only provide students with hands-on experience in finding solutions to digital problems, it also seeks to become more involved in Berlin's wider tech ecosystem, connecting with other tech companies on this level to inspire students to be innovative, to always question the status quo, and to continue to nurture the pool of tech talent which has made Berlin the tech hub it is today.
Be part of our innovative team! Check out our jobs page.