Dortmund Turns Six
Zalando's maiden tech hub celebrates in style
Zalando's maiden tech hub celebrates in style
With our 10th anniversary celebrations coming up, 2018 is a very special year in the Zalando universe. But while the company celebrates 10 years, we in Dortmund are excited to celebrate our own birthday as we turn six.
Every year in July, we stop for a moment in Dortmund to reflect on our past journey together and celebrate the opening of our Dortmund Tech Hub in 2012. Being the first technology hub outside Berlin, it still feels very special to be part of this team and its continuing journey.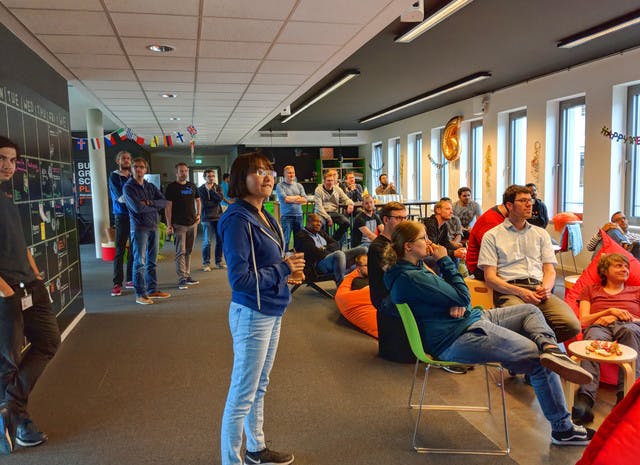 Back in the day, this was a big step for Zalando, one in which no one really knew what to expect. How would remote communication work? How can the community and Zalando grow over several locations but remain one team? What would be the core task here in Dortmund? Dortmund has a proud history as an industrial city, famous for coal and steel. A rather pragmatic way of working has developed here over time. So for us, the local "Zalandos," the goal was clear: make it work.
With a team of six developers and product managers from the outset, the office outgrew its initial space after our Smart Inventories, Gift Card, and Payments teams increased in number and scope. Boasting over 90 employees now, our Dortmund hub still holds an important role within the overall organization of Zalando, and maintains a consistent line of communications with Berlin and beyond.
At our birthday celebration, we looked back on this awesome journey and our great accomplishments. We achieved six years of growing together, taking our place in the Zalando universe, becoming known as the core pillar for Payment Services and our Fulfillment network, the backbone of our business. At last count, we number over 13 different teams that all contribute to core functionality of the Zalando Platform.
Here's to our future!
Join our Dortmund team by checking out our open job positions!