The Journey to Connecting Retail
Digitizing brick & mortar fashion stores through Connected Retail
Digitizing brick & mortar fashion stores through Connected Retail
Everything started back in 2015 when Zalando was already successful as an online fashion retailer in Europe. However, a B2B problem was identified that needed to be tackled: brick-and-mortar fashion stores need a way to increase their sales. Seeing the need to connect offline with online in order to help merchants solve this problem, is when I joined Zalando as a Product Manager in early 2016 at the newly established Helsinki Tech Hub.
I started working on a topic back then called "Offline" and my first task was to do market research on the problem mentioned above. I learned that the situation was not ideal, but if we could connect our online and offline sales channels there would be three main areas we could improve and that could have a huge impact through a technical solution. For Zalando this could mean more inventory and connecting local offerings online. For brick and mortar stores it could mean stores generating additional sales and offer huge potential for opening up new in-store use cases. And most importantly, for our Zalando customers this could mean reducing delivery times and creating new experiences.
Based on my findings, I started to build a team to work on a pilot project. Our team, which envisioned being a "fashion connector" soon became known as team "Silta", (meaning "bridge" in Finnish), which was quite fitting as that is exactly what we were aiming to do: bridge offline and online fashion. We wanted to digitize brick and mortar fashion stores to help stores sell online, as well as reduce Zalando delivery times and improve the in-store customer experience.
In order to validate the hypothesis, we created a pilot with adidas, delivering a parcel from a Berlin brick and mortar store within 25 minutes of ordering from the online Zalando fashion store. The pilot, which was launched in June 2016, was a great success and it gained a lot of recognition in the news and the e-commerce industry.
From a technical point of view, the pilot was not a scalable solution, but it validated our hypothesis, and after this, the real work started to lay the foundation for a possible solution. After the pilot in the summer of 2016, our team started to grow (we were already a team of four) and we started working in the product discovery phase. From the stakeholder point of view we needed to deal with the cross-location complexity of having teams in Berlin and Helsinki. This is where the position of product manager played a key role in the team by ensuring transparency and clear information flow. During the last two and a half years, I have visited Berlin for business trips about 80 times, and I remember times when I needed to travel to Berlin every week during several months in order to meet face to face with my stakeholders, and to keep close to the users in order to keep the project moving forward swiftly.
By 2017, based on the pilot and the groundwork our team had done, Zalando decided to build a dedicated product to tackle offline merchants' problems. This was great news for Team Silta, and for me personally, having laid the foundation and been along for the journey from the start. We decided to have a unique name that would be easy to identify both inside and outside Zalando, which would simply describe what we were trying to do, so our product became known as Connected Retail.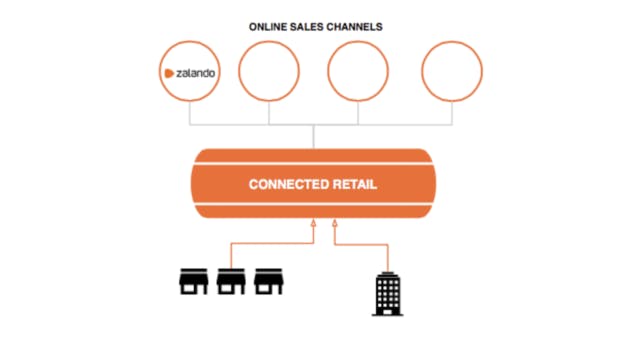 Now, in September 2018, we have just soft-launched a pilot of our new Connected Retail product with a Seidensticker store in Berlin that will help Zalando scale across Europe, connecting thousands of offline stores and delighting millions of customers. Our MVP (Minimum Viable Product) is a custom built Connected Retail system, and includes a ship-from-store feature. This launch is a very important milestone for both the teams located in Helsinki and Berlin, who have worked on this topic since 2016 across locations, and it will also play a big role in changing the way our brick and mortar merchants approach their customers.
However, there is still much to learn and one of the biggest challenges we face is "stock accuracy," which is a multidimensional problem. The problem is to try to solve how to identify what is being sold at the offline store and what is being sold in other channels. Another complex problem that Connected Retail faces is how to digitize merchants for whom technology is still largely an unknown and who don't have their stores enabled for it. What I have learned is that merchants know best how they work, and if we can build a product that will solve problems that merchants have, then they will naturally use the product. Although Connected Retail still has many challenges to overcome, what drives us is the vision of a future where every Zalando customer can purchase any article located in any physical store, making every store a small frictionless warehouse.
From a product management point of view, it has been an amazing journey that has tackled the entire product life cycle; starting from market research, product discovery, competitive analysis and moving into phases such as prototyping and user testing and towards a MVP definition and launch. I am proud to see how far w've come and excited to see how far Connected Retail will go in helping to digitize brick and mortar fashion stores.
Join Team Silta and other teams in our Helsinki Tech Hub to solve interesting technical e-commerce problems, like Connected Retail.